You are here:
Home
» Moody's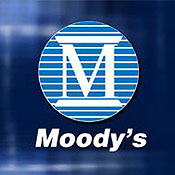 We have been working with Moodys' , the leading provider of credit ratings, research and risk analysis for several years.  This has involved creating training programmes in both presentation skills and creative language.
One of our client's briefs was to deliver a presentation skills programme, as part of one of their annual training events.  The programme has incorporated different levels of experience –  beginner, intermediate and advanced.  Each year attendees have developed new skills and refreshed existing ones.  These include:
structuring a clear message
communicating ideas with greater impact
presenting in more challenging environments
The training is delivered in a short, dynamic half day workshops with a strong emphasis on skill development.  The group sizes are larger than our usual training (15-30 attendees) and so our practical and interactive approach is very important in ensuring a highly positive experience for all.     
In addition to our presentation skills training, we have also designed bespoke creative writing workshops.  These have been rolled out both in the UK and Europe.  Our client wanted to focus on how to communicate clearly, with greater influence on your audience through the written word.   Our approach was to ' lift' what could be quite a 'dry' topic into an exciting, informative and fun learning experience.  To achieve this we have focused on:
a good mix of theory and practice with plenty of relevant exercises
appplication of real-life examples to 'bring to life' the various techniques learnt
Feedback from our Client – Beginner Presentation Skills
"Very funny and entertaining training – great.  Managed very well to get people involved and to make everyone feel at ease"
"Lots of useful tips and tricks about presentations!  Lots of opportunities to ask the things I've always wanted to ask about presenting to people"
"Great communication skills of the trainer"
"Really entertaining, really clear and structured"
"Excellent training with lots of opportunities to practise the 'theory.  Excellent trainer'"
"Pragmatic, provides confidence in the way it is trained"
"Good presentation, allowing to emphaisise on difficulties and strengths in my presenation skills"
"It was absolutely great.  I had taken several courses like this before but this was the best!"
"Very thorough and interactive.  Robin is very good and really pays attention to detail"
"Never had such a good presentation skills class.  Really good, Robin is fantastic"
Feedback from our Client – Intermediate Presentation Skills
"Very interactive – very good"
"Very good instructor, loved the interactive session with feedback.  Good exercises, good time allocation"
"Great session, I have learnt a lot.  Thank You"
"Extremely useful not only in work environment but also in my personal life.  Great workshop – something to look forward to next time!  5 Stars!!!"
"Helps you understand lots of things that you didn't realise before."
"Applies what it teaches and no superfluous talk just straight to the point"
"Very useful to future career and very competent teacher"
"Like the different activities on voice, pace, displays, maintaining confidence and representation"
"Practice useful in implementing theory and improve approach to presenting.  Good individual feedback process"
"The workshop was different to last year as it brought to us new techniques"
"Very good, very useful. I hope to see more of presenation skills next year!  Thank you very much!"
Feedback from our Client – Advanced Presentation Skills
"Good instructor, very dynamic, enthusiastic"
"Tailored to participants"
"Good variety in group exercises"
"Thank you very much, I enjoyed it.  It was on a highly professional level"
"Very helpful to increase awareness of body language.  Good balance of teaching and practical exercises.  Excellent friendly and professional delivery"
"It was really quite useful and would help us in making and structuring presentations more effectively.  It would also help us in having a proper body language and conduct in meetings"
"Very lively presentation and bringing a lot of energy"
"Great course, highly recommended!"